SugarCRM enables businesses to create extraordinary customer relationships with the most innovative and affordable CRM solution in the market. Recognized by leading market analysts as a "visionary" company, Sugar is deployed by over 1.5 M individuals in 120 countries and 26 languages.
SofWerkz is positioned to fully unleash the promise of SugarCRM with a innovative CRM system designed for every individual who engages with customers: sellers, marketers, customer support agents, receptionists, and executives. SofWerkz installs and customizes a completely transformed, individualized CRM user experience that is immersive, engaging, and intuitive. We are SugarCRM experts and deliver the straightforward simplicity, mobility, and social aspects of a consumer app with the business process optimization of conventional CRM.
360-Degree View of Your Customers
Sell proactively and avoid surprises by knowing what matters to your accounts and contacts, when it matters. Know your accounts inside and out with 360-degree customer activity history across the extended selling enterprise. Understand what matters to your key contacts and when to engage with smarter account intelligence based on cross-channel and social media activity.
Expert Collaboration
Sell with the power of the collective enterprise. Get every resource you need when you need it. Connect in real time with experts across your organization, collaborate and share winning practices to accelerate every stage of the deal cycle.
Social Selling
Sell based on relationships. Leverage social networks to expand your prospecting and contact networks. Track key selling opportunities across social sites and respond directly from your CRM system. Manage all social interactions along with your other communications in the context of your CRM system. Sugar is fully Social CRM ready.
Mobile
Sell anywhere and stay on top of your leads and opportunities, meetings or calls -- across any mobile device. Move seamlessly between your mobile and desktop app to stay on top of every deal wherever you are.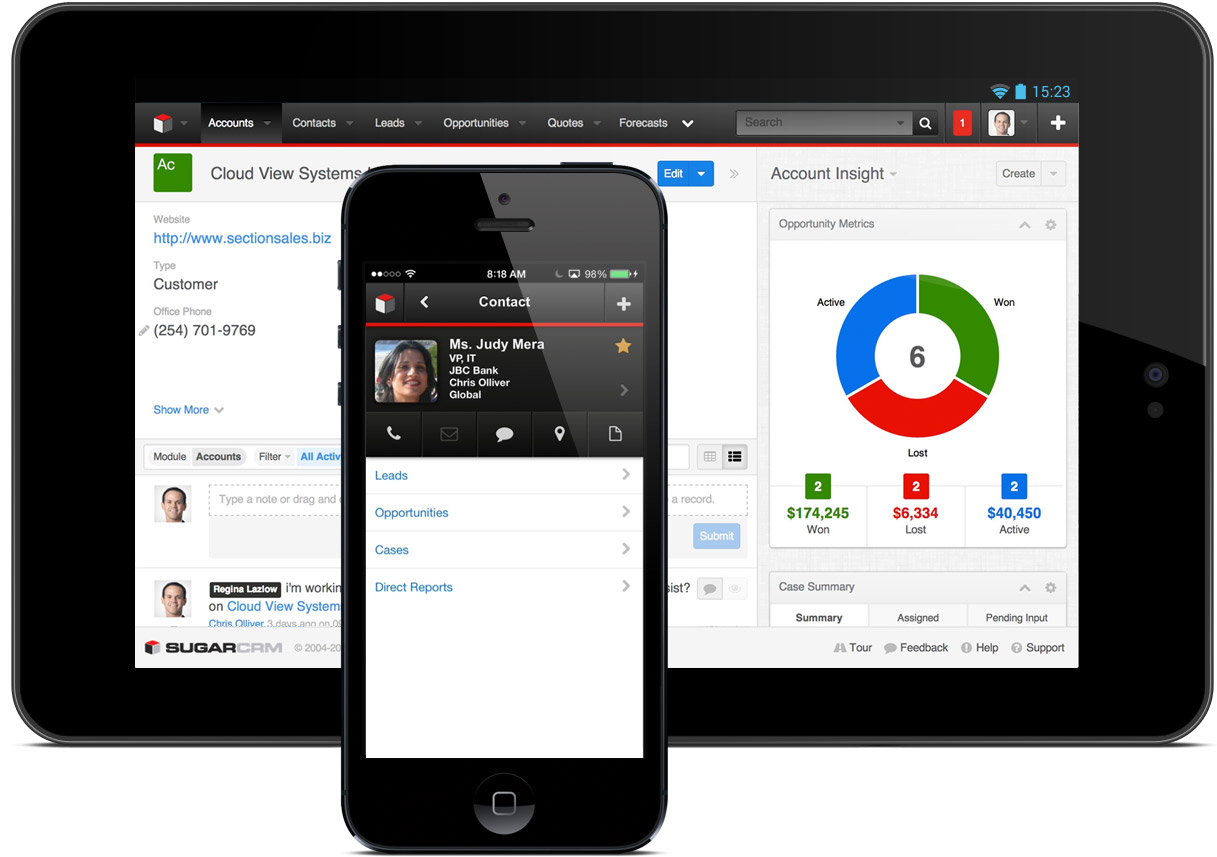 Real Time Pipeline Management
Sell on time with real time, personalized access to every deal in the pipeline. Track early indicators and changes affecting your pipeline so you can stay ahead of your forecast, spend time where it counts, and meet your sales targets.
Workflow and Approvals
Sell more by automating your day-to-day tasks. Automatically drive deal change alerts, route leads to teams, communicate with prospects, assign opportunities, and monitor account activity.
Email, Calendar, and File Management
Sell using your favorite applications with Sugar's built-in email integration for Microsoft Outlook, Gmail, IBM Lotus Notes, Yahoo! Mail, and IMAP based email servers. Sugar also comes with a wide range of collaboration integrations right out of the box. You can easily integrate Sugar with Google apps (Google Docs, Google Calendar, Google Contacts) and Box.com.
Sales Analytics
Sell smarter. Sugar's customizable intelligence panes, reporting, and dashboards provide you with real-time information about your pipeline, progress to quota, key opportunity and account activity, and rep performance. Sugar reports and dashlets can be personalized for every user, on every screen, so the sales professional is always armed with the selling and customer insight they need to drive results.
Data Enrichment
Sell more with account and contact information from leading business aggregators like D&B. You'll always have the latest information on your contacts and their relationships so you're aware and informed whenever you engage 1:1 with your accounts.
SofWerkz. Contact Us for a quote or free consultation!
Contact Us